Villeroy & Boch Cellini 12-Piece Dinnerware Set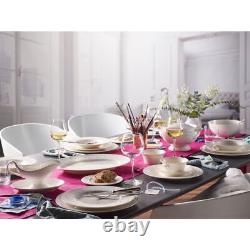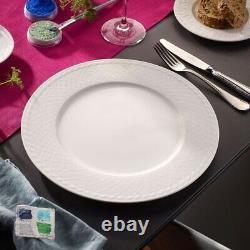 Villeroy & Boch Cellini 12-Piece Dinnerware Set features premium porcelain plates and bowls you can use for either formal or casual gatherings. The set can be mixed and matched with other Villeroy & Boch dinnerware collections for a unique table setting. The set includes dinner plates, salad plates, and deep bowls.
Villeroy & Boch is an innovative company with outstanding design expertise and a long history dating back over 270 years. From the tiles on board the Titanic and in the Holland Tunnel in New York to tableware series produced specially for the Vatican and royal families - during this period, the brand Villeroy & Boch has left lasting impressions all over the world. Cellini dinnerware collection and coffee and tea service is a Villeroy & Boch modern classic: understated elegance with a clean form and design for casual dining or gourmet entertaining. Inspired by the detailed work of Italian Renaissance artist Benvenuto Cellini, this collection is sophistication made simple.
Cellini boasts delicate relief detailing on soft, white shapes, celebrating Renaissance architecture. The collection brings classic elegance to your table with its traditional gracefulness. The dinnerware set includes 4 of each: dinner plate(10.5"), salad plate (8.5"), and rim soup bowl (9.5). Made of premium porcelain, the set is dishwasher and microwave safe.
Bring elegance to the table. The variety and design of the products include everything consumers need to make their homes more beautiful: from high-quality home accessories to crockery, cutlery, and glasses. Anyone looking for inspiring gifts is sure to find the perfect items at Villeroy & Boch. Reflecting this philosophy, Villeroy & Boch adds a decorative touch to its customers' living environments, combining passion with design expertise and innovative strength.
Since its foundation in 1748, the company has developed to become one of the world's leading lifestyle brands and creates feel-good moments and living spaces with the best ceramics from its Bathroom & Wellness and Dining & Lifestyle Divisions.

---