Melamine Dinnerware Set (White, 23 Pieces)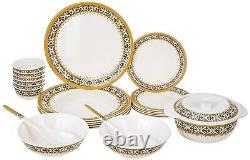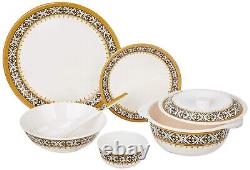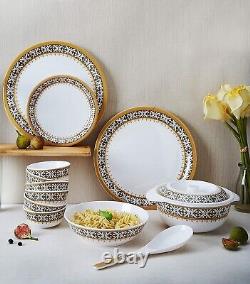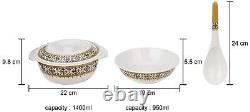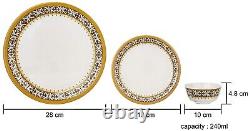 Made from 100% premium food grade melamine. Set of 23 that has 6 of 11 inch plates, 6 of 7.5 inch plates, 6 pieces of 4.2 inch bowls, 2 large serving bowls, 2 spoons and 1 casserole with Lid. Ideal for a family of 3 or 4 or for additional guests to serve food.
Large plates are ideal to serve a full course meal with Roti, Rice, Dal, Sabzi, Salad etc. Small plates ideal for serving small portions of food and the bowls are perfect for serving dal, gravies, curd, soup etc. Large Bowls are ideal to serve large portions of rice/vegetables/gravies and the casseroles are best suited to store and serve whole portions of rice/roti/other pancakes/vegetables/meat etc. Dimensions: Large Plate - 28 cm diameter with a weight of 280gm Small Plate - 19 cm diameter with a weight of 137gm Small Bowls - 10cm dia, depth of 4.8cm, capacity of 240ml and weight of 73.5gm Casserole - 22cm dia, depth of 9.8cm, capacity of 1400ml and weight of 412gm Large Bowls - 19cm dia, depth of 5.5cm, capacity of 950ml and weight of 183gm Serving Spoon - Length of 24cm and weight of 70gm.
Freezer Safe and Dishwasher Safe. Handles even boiling water well with no discoloration/impact. Comes in an attractive printed color that elevates the look of the Kitchen/Dining area.
Your feedback is always important for us.

---