Borosil Gourmet Dinnerware Set For 6, 35 Pieces, White Dinner Plates and Bowls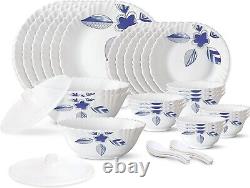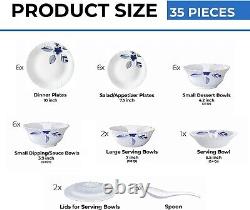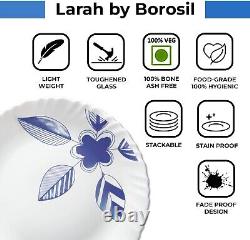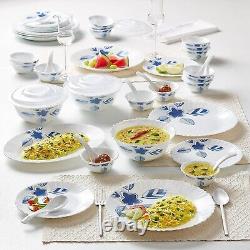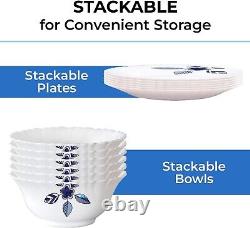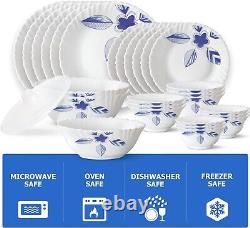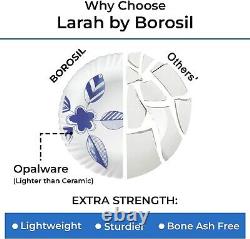 WHAT'S INSIDE: 35 Piece Dinnerware Set for 6 contains: (6) 10" Dinner Plates, (6) 7.5" Salad/Appetizer Plates, (6) 4.2" / 6 oz Small Dessert Bowls, (6) 3.9" / 5 oz Mini Sauce/Dip Bowls, (2) 0.8 Qt Large Serving Bowls, (1) 0.5 Qt Serving Bowl, (2) Lids for the Serving Bowls, (6) Spoons. SIGNATURE COLLECTION: Larah Signature Dinnerware Collection is made from premium opal glass. Our dinnerware sets feature delicate and rich looking designs that will beautify your dinner table. TEMPERED OPALWARE: Larah BPA-free Opal Ware plates and bowls sets are a lot superior to ceramic, porcelain and melamine as they are (i) a lot lighter making them easy to handle, (ii) they are chip resistant, (iii) crack resistant, (iv) stain resistant and (v) odor resistant.
DURABLE AND LOW MAINTENANCE: All pieces of this dinnerware set are both dishwasher-safe and microwave safe. All the plates and bowls in this dinner set are stackable so that they don't use any more space than they need to. It is low maintenance and easy to clean under a running tap or in the dishwasher. VERSATILE AND MULTI-PURPOSE: These versatile and modern dinner sets are perfect for indoor/outdoor parties, festive gatherings, holidays, and everyday home use. Larah dinner plates and bowls make perfect gifts for Christmas, Weddings, Housewarming, and other occasions. Unlike porcelain or stoneware which are heavy, opal glass is lightweight, making it perfect dinner set for every day use. The extra whiteness of the dinnerware will stay extra white and the designs will not fade or discolor, no matter how much haldi or oil you use. Opal glass is food grade and doesn't leach harmful chemicals, toxins or odors into your food, making it the safest and healthiest option for your family. All our Larah products are stackable so that they don't use any more space than they need to. Unlike Bone China which uses actual bone ash, opal glass is a 100% vegetarian option.
For those who loves animals, you'll love us too. Built for every day use, Larah Opalware is 100% microwave safe, allowing for easy reheating.

---